About Unified Council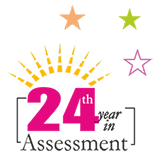 Much of the 'learning' that children receive in schools nowadays, is largely rote and thus lacks in-depth understanding of a subject. 'Knowledge' is built up only on a thorough understanding of a subject, which is put to test in real-life competition. To acquire/dispense knowledge through 'proper learning' in order to contribute meaningfully to tomorrow's world, the students and schools need a paradigm shift in the way they look at 'learning'.
Unified Council products and services provide that very need and help in accurately measuring 'learning' and promote 'self-learning' in children; so also empower educators and schools.
We offer various diagnostic tests for students of classes 1 to 12. These tests help pinpoint students' strengths and weaknesses and also those of their peers with a tool to set proper benchmarks.
Students from India, Tanzania, UAE, KSA, Yemen, Oman, Iran, Qatar, Kuwait, Indonesia and Nepal, participate in our exams.
More than 11 million students have participated in the exams conducted by us, till date.